Denise is also an author, having written several novels, a novella, short stories and a photo book.
---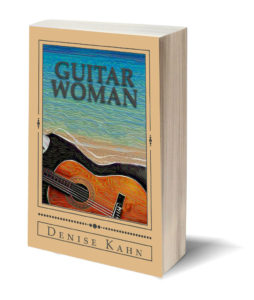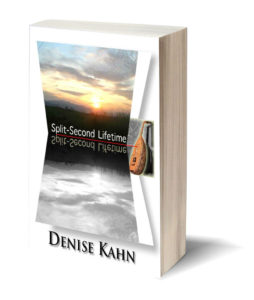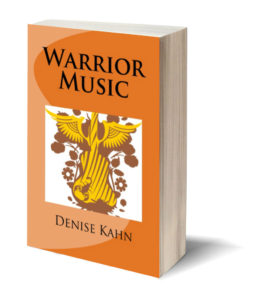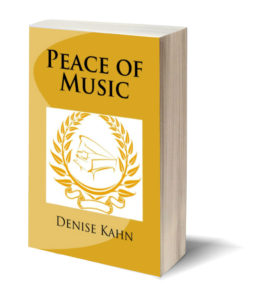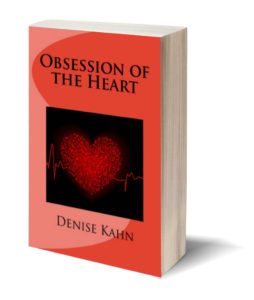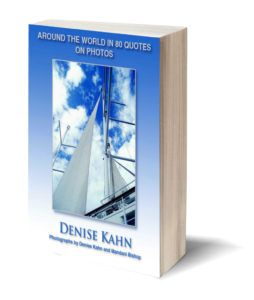 Alex Kouros' passions are making exquisite guitars and producing Greece's premier beer. At a prestigious art gallery he meets artist Cassandra Beckham. A whirlwind romance ensues, but is cut short when malicious kidnappers board the yacht they are sailing on in the turquoise waters of the Aegean. As they struggle with the malefactors Alex is shot and Cassie falls into the sea with a blow to her head.
They are left for dead, and although they survive they both think the other died.
Alex blames himself and tries to drown his sorrows with his brew. Cassie washes up on a deserted beach of a tiny island.
Will they be destined to find each other again?
Available as an e-book, paperback and as an audiobook.
A novella full of passion that covers art, music and the sensuous side of human nature.
~USN Chief, Ret..VT Town TOP 500 REVIEWER
I couldn't stop reading, what a lovely story. Full of surprises, romance, and suspense, plus being set in Greece all make it wonderful. ~Rose Dawson, Amazon UK reader
[hr]
HOT AIR
Sean Sandoval, half Navajo, half Irish, has bravery in his blood and passion in his heart. From boyhood to one of the Air Force's elite Pararescuemen, his path in life is always connected to air.
As a hot air balloon pilot he communes with that air. As a Pararescuer he flies into danger to saves lives.
An enemy combatant from the mountains of Afghanistan, presumed killed, is bent on such revenge that he puts thousands of people at the annual International Balloon Fiesta in Albuquerque in lethal danger.
Will Sean be able to stop the extremist in time, or will the murderer accomplish his mission first?
Available as an e-book, paperback and as an audiobook.
A novel that will grip you from the very first page… with characters that love the air and wonderfully portray USAF Special Forces first responders, the elite Pararescuemen.
Joseph L. Conour, Lt. Col. U.S. Air Force (Ret.)

This is my first ride with Ms. Kahn and it won't be my last… with a host of elegantly drawn characters in an array of beautifully described scenarios. Denise Kahn has a wonderful, comfortable writing style and her novel Hot Air is fun, exciting, informed and intelligently rendered. –Sean Costello, Bestselling Author
…the author manages with historical accuracy to incorporate facts that include music, like the first woman aloft in a hot air balloon was an opera singer!
–E. N. Heenk, Bestselling Author/Publisher
You can sense the passion in her writing, which she gifts us in the brilliance of her story telling. Please do not deprive yourself of this piece of literary art. "Hot Air" is magic! –Michael T., Amazon Reader
Once we had liftoff and the action increased, so did my heart rate. Keep these types of books coming my way. –Marc A. DiGiacomo, Award winning Bestselling Author
This novel is a delicately woven tapestry of many threads that unite heritage, home, the PJ's and diverse cultures… –A Navy Vet AMAZON TOP 500 REVIEWER

Denise Kahn puts her own masterful twist on this story… and puts a nice soundtrack in your mind as you read. Highly recommended to anyone that likes adventure, and incredible writing. –Kyle Robertson, Bestselling Author
The width and depth of this book are breathtaking. A real treasure, by a master crafts(wo)man. –Gary Gedall, Bestselling Author
The book was all I could think of… I couldn't put it down… I was so stuck on the story… –Maria Mendez, Amazon reader
Full of twists, suspense, and even a bit of romance… Love, love, love the mix of Indian heritage throughout! –Lisa K., Amazon Reader
Magical music in the sky! –Anne Mitchell, Amazon Reader
The story has real human issues we all deal with, including alcoholism, Native American discrimination, deep-rooted military friendships, love and romance (some slightly steamy stuff), premature death, heroism, and danger. A great read that has a web of various story lines culminatating in an excellent ending! –Eric Laughton, Captain (New York State Trooper)/Lt. Col. U.S. Air Force (ANG)/Author
[hr]

PEACE OF MUSIC
A once lost magnificent antique vase from China's 13th Century Song Dynasty reappears from the depths of the Mediterranean Sea where it comes to dwell on a piano in a doctor's home. It becomes the impetus in steering the lives of this doctor and his descendants through their heartbreaks, romances and ultimately successes.
An assassination, a sabotage on a Greek island and amazing musical performances are but some of the events that strike their lives. Spanning from 13th Century China to the present, the story takes place on four continents, with talented individuals of different nationalities and backgrounds, always interrelated by music.
"Music to Your Eyes."
"This magnificent work of literary art spans four continents and the lives of the unforgettable and colorful characters." Jada Ryker, Author

"Be prepared to lose yourself in an amazing world of music, laughter and intrigue as you follow the vase from thirteenth century China to modern day Europe." Sophia Gampton
"An extraordinary story of love and loyalty with music an integral link." Ginny Granger
"Musicians will not be able to put this book down, nor anyone else who appreciates a good novel!" Nana Mouskouri, Singer, Author, UNICEF Ambassador
iTunes ranked 'Peace of Music' #1 Top Book
[hr]

OBSESSION OF THE HEART
Set against an international backdrop of jet setters, music, romance, murder, terrorism and true friendship is Davina Walters, an international singer.
Davina meets Jean, a young woman almost paralyzed with fear, as her sadistic ex-husband is bent on killing her. On the spur of the moment Davina decides to take her along on tour and the murderer plans his ultimate revenge in a deadly showdown.
.

"This is very much an adventure story with love, deception and loyalty thrown into the mixture. The pace is quick as the action travels from country to country in a world of super stardom, yet very real human emotions. Hold onto your seats in this roller coaster of a journey!" Sophia Gampton
[hr]

  
WARRIOR MUSIC
Max knew the drugs and alcohol would eventually kill him, and sooner rather than later. So he enlisted in the Marines.
His timing is unfortunate, as the events of 9/11 find him at the beginning of his military service, and he is sent to Iraq. The journey he embarks on is unlike anything he could ever imagine. From Washington, Boston and new Orleans to the ancient sands of Iraq, Max and his entourage endure the toils of war with gallantry, patriotism, courage, heartache and passion.
Only one weapon gets them through the anguish they come face to face with…Music.
"Whatever your tastes in books are,
Warrior Music
needs to be displayed on your bookshelf with pride."
Helen A.
"Good story…great tribute to veterans..love all the geographic, historic, and musical references in the trilogy."
San Cam
"It is such a beautiful gift…Kahn's talent. Written with heart and insight, she continues to weave this amazing tale of an incredible family. Her story lines are so well done…they hook you!"
Susan Zamora Gorman, Producer/Director
Denise Kahn wrote a masterpiece directly imagined from her heart as her own son, a U.S. Marine was in Iraq in harms way… My hat is off to the author and most respectfully to her son and to all that serve in the United States Military. A must read for anyone looking for a love story with non-stop action.
Author Marc A. DiGiacomo
It will soon be categorized as a historical novel because it superbly chronicles the life of a soldier in the desert of Iraq, post 9/11… Ms. Kahn's son is a veteran of the Iraq War, and this novel is her love song to him. Her pride of him and all veterans shines through in this novel of love, war, and music.
Author P.A. McAlister
Just an incredible read for me and brought back memories of my 20 + years in the military.
Most highly recommended with additional Hoo-Rahs and a Bravo Zulu to this author.
A Navy Vet.
[hr]The
MUSIC TRILOGY
: 3-Book Collection:
[hr]
 
SPLIT-SECOND LIFETIME
On a business trip from the U.S. to Paris, Jebby meets Dodi on a flight. Jebby is an ethnomusicologist, and Dodi is an international photographer. They are immediately attracted to each other, but from the very first moment Dodi triggers what seems like past life memories for Jebby of a poignant and passionate time they shared together. As Jebby tries to figure out if she is "losing it" or if past lives really do exist, they embark on a path of adventure and romance where lifetimes and cultures interweave in modern day Paris, Uzbekistan, and in the old Southwest. Jebby and Dodi live their unusually diverse and rich adventure and romance, surrounded by an international cast and superb musicians. At the same time Jebby discovers where the Hopi originated from, that death is not a finality, love transcends lifetimes, and music is eternal.
Available as an e-book, paperback and as an audiobook.
Kahn knows her music and her setting, and she combines it all with a creative touch in her writing. I loved the story and the lyrical prose. Patti Ann
"The entertaining and unexpected puns made me laugh out loud with Jebby and Dodi." Jada Ryker, Author
Isabel Allende, Paulo Coelho, Denise Kahn. What do they have in common? They are all amazing writers and storytellers with a touch of mysticism. Ms. Kahn's writing is fluid and elegant. The characters are original and compassionate, the story is intriguing and fascinating, and the settings are international and exotic. Unique scenes will stay in the back of your mind for a long time. Each one of these authors has a specialty or unique ingredient that puts them in a class of their own.

Denise Kahn's 'Split-Second Lifetime', like 'House of Spirits' and 'the Alchemist', is bound to become a classic.
[hr]
AROUND THE WORLD IN 80 QUOTES ON PHOTOS
A photograph portrays a thousand words. A quote is but a few more powerful one. Together they are food for the senses. They make us think, wonder and engulf us. They represent traditions, civilizations, cultures and offer us splendor, progress, grand vistas and minute details, all in a planet rich in majestic beauty.
Embark on this journey of quotes and photographs, from ancient sands to calm seas, from sky to pebbles, from natural magnificence to man-made luxury.
These photographs were taken in several countries around the world.
"If you wish to take an entertaining trip around the world without leaving your desk chair, this book will provide you with your round-trip ticket." Dr. Joe Rubino
"Looking for inspiration, a smile or just some beautiful photography? Then this is the book for you." Michael T.
"You'll have beautiful words and pictures to brighten your day for many days to come." Simone Beaudelaire
[hr]
TRAVEL TALES (Available only as e-books) is a series of short travel stories, journeys spiced with humor and interesting international characters, in famous or little known places. TRAVEL TALES will keep the reader laughing, entertained and inspired.
[hr]
WE WERE 12 AT 12:12 ON 12/12/12
An American woman finds herself in an adventure in a foreign land, while discovering different cultures, local folklore, food, music, and sometimes danger.
This Travel Tale takes place in Mexico.
The descriptions in this book are superb as is the writing. The writing conveys a deep knowledge of the traditions and also the deep respect that the Mexicans have for each other and visitors to their family. The author also shows her sense of humor in several spots which enhances the short story.
By A Navy Vet…VT town
TOP 500 REVIEWER
I have always longed to visit Mexico and the picture this writer paints with her words is amazing. The story is uplifting and wholesome. For a short but satisfying read, this story is worth its weight in gold.
Sophia Gampton
[hr]
An American woman finds herself in an adventure in a foreign land, while discovering different cultures, local folklore, food, music, and sometimes danger.
This Travel Tale takes place in Greece.
Outstanding story in that so much is conveyed in very few words. My take away memory is if one gives from the heart, one will receive as well. How very true that is in life!
By A Navy Vet…VT town
TOP 500 REVIEWER
Anyone who reads those tales feels they traveled back in time and lives the moment.
Helen A.
This is a great short read for anyone with wanderlust! Lindsay M Jacobson, Amazon Reader
[hr]

An American woman finds herself in an adventure in a foreign land, while discovering different cultures, local folklore, food, music, and sometimes danger.
This Travel Tale takes place in India.
A kaleidoscope of colors and the cacophony of horns will greet the reader along the route of the taxi in India.
By A Navy Vet…VT town
TOP 500 REVIEWER
[hr]
An American woman finds herself in an adventure in a foreign land, while discovering different cultures, local folklore, food, music, and sometimes danger.
This Travel Tale takes place in Switzerland.
This was an enjoyable read for a short travel story. When you read a story and you can't tell if it's fact or fiction, it's all the more enjoyable. So glad I found Denise Kahn's work!
Amazon Reader
[hr]
An American woman finds herself in an adventure in a foreign land, while discovering different cultures, local folklore, food, music, and sometimes danger.
This Travel Tale takes place in Mexico.
Very well written and imaginative. It certainly does reflect the international and open-minded spirit of the author.
Marta M.
This is a very well-written, clever, amusing and culturally relevant book.
Author Thomas Baker
The author manages to give us a true picture of her Thanksgiving message. Well done.
Margot Rising
[hr][hr]