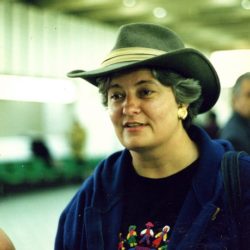 I focus on bringing the characters' voices to life, and strive to have the listener enjoy the story and the narration.
Being an author myself I have the utmost respect for the author's creation, and I work diligently to convey their words in the best possible way. I am professional, reliable and versatile. I look forward to working with authors to reflect their literary impression.
I can add sound effects/music to the audiobook, anything from hovering helicopters, rainstorms to roosters crowing (and probably anything in between). All effects are legally usable for commercial purposes.
Accents are my specialty. There is a difference between doing a good foreign accent, and doing a foreign accent and being fluent in that particular language. This is where I excel. I speak these languages fluently, as a native speaker would. I love being able to fool locals.
I am fluent in English, French, Greek, Spanish and German. My Italian and Portuguese are conversational. All the languages are accent free and with local fluency. I can perform most any accent and will study to perfect it, if it is one that I am not familiar/fluent with. Different accents include American-General, American-Southern, British-General, French, Spanish, Greek, German, Italian, Irish.
I have worked as a simultaneous interpreter; with the airline industry (for an international carrier); with the music industry and Julio Iglesias; and in Community Theater in Europe. I am also an author. You can see my work by clicking on the author link.
I taught French and Spanish to English speakers (toddlers to adults), as well as foreign nationals.
Before the Athens Olympics the Greek Prime Minister (at the time) asked me to make announcements to introduce athletes and events. I declined as my son was in a war zone in Iraq, and I wanted to be available at all times.
I lived and studied in Europe for twenty years, in different countries, as my father was attached to the State Department and the Military. I worked in Community Theater for the U.S. Military in Europe. I also worked with Julio Iglesias in recording studios and on live performances (live albums and tours).
I would love to hear from you, whether you are a reader/listener, or are looking for a narrator to produce your work. I will get back to you right away. Just leave me a message in the contact link.
Thank you.